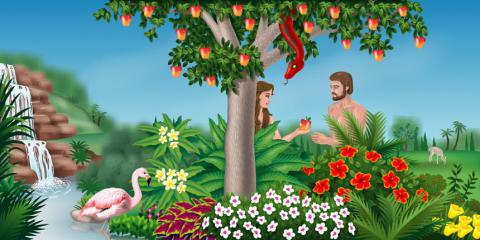 Belief as a Form of Worship
Or as Alex Jones would say, "There's a war on for your mind!"
For what does the Scripture say? "ABRAHAM BELIEVED GOD, AND IT WAS CREDITED TO HIM AS RIGHTEOUSNESS." (Romans 4:3)
"For God so loved the world, that He gave His only begotten Son, that whoever believes in Him shall not perish, but have eternal life. (John 3:16)
"All the world's a stage" -- William Shakespeare
The dictionary defines belief as:
be·lief
1.
an acceptance that a statement is true or that something exists.
2.
trust, faith, or confidence in someone or something.
It is apparent from even a cursory reading of the Bible that what you believe is very important, so important, even, that followers of the Christ are referred to as 'believers'. Jesus said, "Truly, truly, I say to you, he who hears My word, and believes Him who sent Me, has eternal life, and does not come into judgment, but has passed out of death into life." (John 5:24) Belief here is tied to salvation. Putting your trust, faith, confidence in God leads to eternal life. Eternal life is pretty important!
For quite some time, I had been wondering why there is so much deception going on now. Why is it that politicians seem to lie when the truth would do just as well? Why is there so much deception involved in what we see on the television? Why are there so many staged events happening? I mean, people wouldn't really lie about all those things, would they? And if so, why?
Since the days of the Garden of Eden, there has been a battle going on for the minds and souls of mankind. God, the Creator of All, wants men to voluntarily trust and believe in Him. Satan, the father of lies, wants to deceive men.
Now the serpent was more crafty than any beast of the field which the Lord God had made. And he said to the woman, "Indeed, has God said, 'You shall not eat from any tree of the garden'?" 2 The woman said to the serpent, "From the fruit of the trees of the garden we may eat; 3 but from the fruit of the tree which is in the middle of the garden, God has said, 'You shall not eat from it or touch it, or you will die.'" 4 The serpent said to the woman, "You surely will not die! 5 For God knows that in the day you eat from it your eyes will be opened, and you will be like God, knowing good and evil." 6 When the woman saw that the tree was good for food, and that it was a delight to the eyes, and that the tree was desirable to make one wise, she took from its fruit and ate; and she gave also to her husband with her, and he ate. 7 Then the eyes of both of them were opened, and they knew that they were naked; and they sewed fig leaves together and made themselves loin coverings. (Genesis 3)
As long as Adam and Eve believed God, they remained in the relative paradise of the Garden. When they believed Satan, sin and death entered the world. Man was given dominion over the earth at the Creation. This dominion was apparently lost to Satan. When Satan was tempting Jesus, he offered Jesus rule over the whole earth, if he would only worship Satan. Jesus did not dispute his authority to make this offer. Satan is also referred to as the ruler of this world. I think this was a result of men believing Satan instead of God.
Also notice that what Satan desires is to be worshiped and to be like God.
12
"How you have fallen from heaven,
O star of the morning, son of the dawn!
You have been cut down to the earth,
You who have weakened the nations!
13
"But you said in your heart,
'I will ascend to heaven;
I will raise my throne above the stars of God,
And I will sit on the mount of assembly
In the recesses of the north.
14
'I will ascend above the heights of the clouds;
I will make myself like the Most High.'
(Isaiah 14)
So when we believe God, it is a form of worship. We trust that what He says is true. We put our confidence in Him. And when we believe the lies of Satan, it is a form of worship. We trust that what he says is true. We put our confidence in him. That is why I think that our world is so filled with lies and deception. We give worship and power to Satan when we believe his lies, so he fills the earth with them.
I had wondered why God hates lies so much. It makes more sense when you see the world filled with lies, and so many believing the lies to their destruction.
Pray for truth!
---
Some verses on belief:
Psalm 78
A Maskil of Asaph.
78 Listen, O my people, to my instruction;
Incline your ears to the words of my mouth.
2
I will open my mouth in a parable;
I will utter dark sayings of old,
3
Which we have heard and known,
And our fathers have told us.
4
We will not conceal them from their children,
But tell to the generation to come the praises of the Lord,
And His strength and His wondrous works that He has done.
5
For He established a testimony in Jacob
And appointed a law in Israel,
Which He commanded our fathers
That they should teach them to their children,
6
That the generation to come might know, even the children yet to be born,
That they may arise and tell them to their children,
7
That they should put their confidence in God
And not forget the works of God,
But keep His commandments,
8
And not be like their fathers,
A stubborn and rebellious generation,
A generation that did not prepare its heart
And whose spirit was not faithful to God.
9
The sons of Ephraim were archers equipped with bows,
Yet they turned back in the day of battle.
10
They did not keep the covenant of God
And refused to walk in His law;
11
They forgot His deeds
And His miracles that He had shown them.
12
He wrought wonders before their fathers
In the land of Egypt, in the field of Zoan.
13
He divided the sea and caused them to pass through,
And He made the waters stand up like a heap.
14
Then He led them with the cloud by day
And all the night with a light of fire.
15
He split the rocks in the wilderness
And gave them abundant drink like the ocean depths.
16
He brought forth streams also from the rock
And caused waters to run down like rivers.
17
Yet they still continued to sin against Him,
To rebel against the Most High in the desert.
18
And in their heart they put God to the test
By asking food according to their desire.
19
Then they spoke against God;
They said, "Can God prepare a table in the wilderness?
20
"Behold, He struck the rock so that waters gushed out,
And streams were overflowing;
Can He give bread also?
Will He provide meat for His people?"
21
Therefore the Lord heard and was full of wrath;
And a fire was kindled against Jacob
And anger also mounted against Israel,
22
Because they did not believe in God
And did not trust in His salvation.
23
Yet He commanded the clouds above
And opened the doors of heaven;
24
He rained down manna upon them to eat
And gave them food from heaven.
25
Man did eat the bread of angels;
He sent them food in abundance.
26
He caused the east wind to blow in the heavens
And by His power He directed the south wind.
27
When He rained meat upon them like the dust,
Even winged fowl like the sand of the seas,
28
Then He let them fall in the midst of their camp,
Round about their dwellings.
29
So they ate and were well filled,
And their desire He gave to them.
30
Before they had satisfied their desire,
While their food was in their mouths,
31
The anger of God rose against them
And killed some of their stoutest ones,
And subdued the choice men of Israel.
32
In spite of all this they still sinned
And did not believe in His wonderful works.
33
So He brought their days to an end in futility
And their years in sudden terror.
34
When He killed them, then they sought Him,
And returned and searched diligently for God;
35
And they remembered that God was their rock,
And the Most High God their Redeemer.
36
But they deceived Him with their mouth
And lied to Him with their tongue.
37
For their heart was not steadfast toward Him,
Nor were they faithful in His covenant.
38
But He, being compassionate, forgave their iniquity and did not destroy them;
And often He restrained His anger
And did not arouse all His wrath.
39
Thus He remembered that they were but flesh,
A wind that passes and does not return.
40
How often they rebelled against Him in the wilderness
And grieved Him in the desert!
41
Again and again they tempted God,
And pained the Holy One of Israel.
42
They did not remember His power,
The day when He redeemed them from the adversary,
43
When He performed His signs in Egypt
And His marvels in the field of Zoan,
44
And turned their rivers to blood,
And their streams, they could not drink.
45
He sent among them swarms of flies which devoured them,
And frogs which destroyed them.
46
He gave also their crops to the grasshopper
And the product of their labor to the locust.
47
He destroyed their vines with hailstones
And their sycamore trees with frost.
48
He gave over their cattle also to the hailstones
And their herds to bolts of lightning.
49
He sent upon them His burning anger,
Fury and indignation and trouble,
A band of destroying angels.
50
He leveled a path for His anger;
He did not spare their soul from death,
But gave over their life to the plague,
51
And smote all the firstborn in Egypt,
The first issue of their virility in the tents of Ham.
52
But He led forth His own people like sheep
And guided them in the wilderness like a flock;
53
He led them safely, so that they did not fear;
But the sea engulfed their enemies.
54
So He brought them to His holy land,
To this hill country which His right hand had gained.
55
He also drove out the nations before them
And apportioned them for an inheritance by measurement,
And made the tribes of Israel dwell in their tents.
56
Yet they tempted and rebelled against the Most High God
And did not keep His testimonies,
57
But turned back and acted treacherously like their fathers;
They turned aside like a treacherous bow.
58
For they provoked Him with their high places
And aroused His jealousy with their graven images.
59
When God heard, He was filled with wrath
And greatly abhorred Israel;
60
So that He abandoned the dwelling place at Shiloh,
The tent which He had pitched among men,
61
And gave up His strength to captivity
And His glory into the hand of the adversary.
62
He also delivered His people to the sword,
And was filled with wrath at His inheritance.
63
Fire devoured His young men,
And His virgins had no wedding songs.
64
His priests fell by the sword,
And His widows could not weep.
65
Then the Lord awoke as if from sleep,
Like a warrior overcome by wine.
66
He drove His adversaries backward;
He put on them an everlasting reproach.
67
He also rejected the tent of Joseph,
And did not choose the tribe of Ephraim,
68
But chose the tribe of Judah,
Mount Zion which He loved.
69
And He built His sanctuary like the heights,
Like the earth which He has founded forever.
70
He also chose David His servant
And took him from the sheepfolds;
71
From the care of the ewes with suckling lambs He brought him
To shepherd Jacob His people,
And Israel His inheritance.
72
So he shepherded them according to the integrity of his heart,
And guided them with his skillful hands.
Psalm 106
106 Praise the Lord!
Oh give thanks to the Lord, for He is good;
For His lovingkindness is everlasting.
2
Who can speak of the mighty deeds of the Lord,
Or can show forth all His praise?
3
How blessed are those who keep justice,
Who practice righteousness at all times!
4
Remember me, O Lord, in Your favor toward Your people;
Visit me with Your salvation,
5
That I may see the prosperity of Your chosen ones,
That I may rejoice in the gladness of Your nation,
That I may glory with Your inheritance.
6
We have sinned like our fathers,
We have committed iniquity, we have behaved wickedly.
7
Our fathers in Egypt did not understand Your wonders;
They did not remember Your abundant kindnesses,
But rebelled by the sea, at the Red Sea.
8
Nevertheless He saved them for the sake of His name,
That He might make His power known.
9
Thus He rebuked the Red Sea and it dried up,
And He led them through the deeps, as through the wilderness.
10
So He saved them from the hand of the one who hated them,
And redeemed them from the hand of the enemy.
11
The waters covered their adversaries;
Not one of them was left.
12
Then they believed His words;
They sang His praise.
13
They quickly forgot His works;
They did not wait for His counsel,
14
But craved intensely in the wilderness,
And tempted God in the desert.
15
So He gave them their request,
But sent a wasting disease among them.
16
When they became envious of Moses in the camp,
And of Aaron, the holy one of the Lord,
17
The earth opened and swallowed up Dathan,
And engulfed the company of Abiram.
18
And a fire blazed up in their company;
The flame consumed the wicked.
19
They made a calf in Horeb
And worshiped a molten image.
20
Thus they exchanged their glory
For the image of an ox that eats grass.
21
They forgot God their Savior,
Who had done great things in Egypt,
22
Wonders in the land of Ham
And awesome things by the Red Sea.
23
Therefore He said that He would destroy them,
Had not Moses His chosen one stood in the breach before Him,
To turn away His wrath from destroying them.
24
Then they despised the pleasant land;
They did not believe in His word,
25
But grumbled in their tents;
They did not listen to the voice of the Lord.
26
Therefore He swore to them
That He would cast them down in the wilderness,
27
And that He would cast their seed among the nations
And scatter them in the lands.
28
They joined themselves also to Baal-peor,
And ate sacrifices offered to the dead.
29
Thus they provoked Him to anger with their deeds,
And the plague broke out among them.
30
Then Phinehas stood up and interposed,
And so the plague was stayed.
31
And it was reckoned to him for righteousness,
To all generations forever.
32
They also provoked Him to wrath at the waters of Meribah,
So that it went hard with Moses on their account;
33
Because they were rebellious against His Spirit,
He spoke rashly with his lips.
34
They did not destroy the peoples,
As the Lord commanded them,
35
But they mingled with the nations
And learned their practices,
36
And served their idols,
Which became a snare to them.
37
They even sacrificed their sons and their daughters to the demons,
38
And shed innocent blood,
The blood of their sons and their daughters,
Whom they sacrificed to the idols of Canaan;
And the land was polluted with the blood.
39
Thus they became unclean in their practices,
And played the harlot in their deeds.
40
Therefore the anger of the Lord was kindled against His people
And He abhorred His inheritance.
41
Then He gave them into the hand of the nations,
And those who hated them ruled over them.
42
Their enemies also oppressed them,
And they were subdued under their power.
43
Many times He would deliver them;
They, however, were rebellious in their counsel,
And so sank down in their iniquity.
44
Nevertheless He looked upon their distress
When He heard their cry;
45
And He remembered His covenant for their sake,
And relented according to the greatness of His lovingkindness.
46
He also made them objects of compassion
In the presence of all their captors.
47
Save us, O Lord our God,
And gather us from among the nations,
To give thanks to Your holy name
And glory in Your praise.
48
Blessed be the Lord, the God of Israel,
From everlasting even to everlasting.
And let all the people say, "Amen."
Praise the Lord!
Isaiah 28:16
Therefore thus says the Lord God, "Behold, I am laying in Zion a stone, a tested stone, A costly cornerstone for the foundation, firmly placed. He who believes in it will not be disturbed.
Jonah 3:5
Then the people of Nineveh believed in God; and they called a fast and put on sackcloth from the greatest to the least of them.
Matthew 8:13
And Jesus said to the centurion, "Go; it shall be done for you as you have believed." And the servant was healed that very moment.
Matthew 9:28
When He entered the house, the blind men came up to Him, and Jesus *said to them, "Do you believe that I am able to do this?" They *said to Him, "Yes, Lord."
Mark 9:23
And Jesus said to him, "'If You can?' All things are possible to him who believes."
24
Immediately the boy's father cried out and said, "I do believe; help my unbelief."
Luke 1:20
And behold, you shall be silent and unable to speak until the day when these things take place, because you did not believe my words, which will be fulfilled in their proper time."
John 1:7
He came as a witness, to testify about the Light, so that all might believe through him.
John 1:12
But as many as received Him, to them He gave the right to become children of God, even to those who believe in His name,