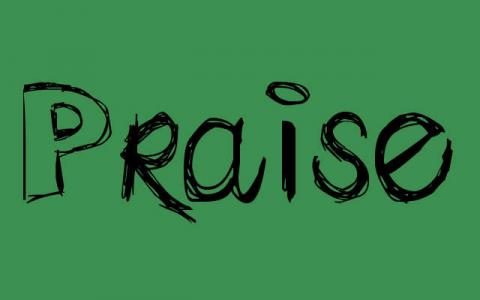 Why did God create mankind? Do we have a purpose in life? The prophet Isaiah, speaking for God, said this:
Isaiah 43:18
"Do not call to mind the former things,
Or ponder things of the past.
19 "Behold, I will do something new,
Now it will spring forth;
Will you not be aware of it?
I will even make a roadway in the wilderness,
Rivers in the desert.
20 "The beasts of the field will glorify Me,
The jackals and the ostriches,
Because I have given waters in the wilderness
And rivers in the desert,
To give drink to My chosen people.
21 "The people whom I formed for Myself
Will declare My praise.
So one major purpose God had for his creation was to glorify Himself. We are to give Him praise (and there is so much to give Him praise for!)
One way that God tries to describe our relationship to Himself is as a child to a Father.
He cares for us the way a father does his child.
Matthew 6:26
Look at the birds of the air, that they do not sow, nor reap nor gather into barns, and yet your heavenly Father feeds them. Are you not worth much more than they?
He loves us with the passion of one who created us.
John 3:16
For God so loved the world, that He gave His only begotten Son, that whoever believes in Him shall not perish, but have eternal life.
He disciplines us as a good father does with his child.
Psalm 103:13
Just as a father has compassion on his children, So the Lord has compassion on those who fear Him.
Proverbs 3:12
For whom the Lord loves He reproves, Even as a father corrects the son in whom he delights.
Another way God describes our relationship to Him is as a vine and vinedresser to the branches. Without our connection to the vine, we can do nothing and we die.
John 15 "I am the true vine, and My Father is the vinedresser. 2 Every branch in Me that does not bear fruit, He takes away; and every branch that bears fruit, He prunes it so that it may bear more fruit. 3 You are already clean because of the word which I have spoken to you. 4 Abide in Me, and I in you. As the branch cannot bear fruit of itself unless it abides in the vine, so neither can you unless you abide in Me. 5 I am the vine, you are the branches; he who abides in Me and I in him, he bears much fruit, for apart from Me you can do nothing. 6 If anyone does not abide in Me, he is thrown away as a branch and dries up; and they gather them, and cast them into the fire and they are burned. 7 If you abide in Me, and My words abide in you, ask whatever you wish, and it will be done for you. 8 My Father is glorified by this, that you bear much fruit, and so prove to be My disciples. 9 Just as the Father has loved Me, I have also loved you; abide in My love. 10 If you keep My commandments, you will abide in My love; just as I have kept My Father's commandments and abide in His love. 11 These things I have spoken to you so that My joy may be in you, and that your joy may be made full.
Satan seeks to subvert the purpose God had for creating us. All religions/churches other than what Jesus himself created serve the purposes of Satan. Each one tells people that they are to excel/ascend into the heavenly places by means of doing good, by their own works. This glorifies men, not God. In the old song, "I Did it My Way" Frank Sinatra exemplifies this way of thinking. Ayn Rand, with her philosophy of self, is another great example of the idea that men can be great through their own efforts. Secular humanism, a man-centered philosophy prominent now, says that humanity is capable of morality and self-fulfillment without belief in God.
Isaiah 29:16 You turn things around!
Shall the potter be considered as equal with the clay,
That what is made would say to its maker, "He did not make me";
Or what is formed say to him who formed it, "He has no understanding"?
Unfortunately, if men will , in the end, refuse to receive the Father's correction, they will be destroyed.
Jeremiah 18 The word which came to Jeremiah from the Lord saying, 2 "Arise and go down to the potter's house, and there I will announce My words to you." 3 Then I went down to the potter's house, and there he was, making something on the wheel. 4 But the vessel that he was making of clay was spoiled in the hand of the potter; so he remade it into another vessel, as it pleased the potter to make.
Does this seem unfair?
Isaiah 45:9
"Woe to the one who quarrels with his Maker— An earthenware vessel among the vessels of earth! Will the clay say to the potter, 'What are you doing?' Or the thing you are making say, 'He has no hands'?
God, for His own purposes, created us and this world. He gave us all we needed to survive. He gave us the plants and animals. He gave us such beauty to enjoy! He leads us and guides us, but he gave us free will, to chose to give Him thanks or not. To chose to believe what He told us or not. I choose to thank Him and give Him glory for all the amazing wonders he has created, and all the wonderful things he has done.
1 Thessalonians 5:16 Rejoice always; 17 pray without ceasing; 18 in everything give thanks; for this is God's will for you in Christ Jesus.