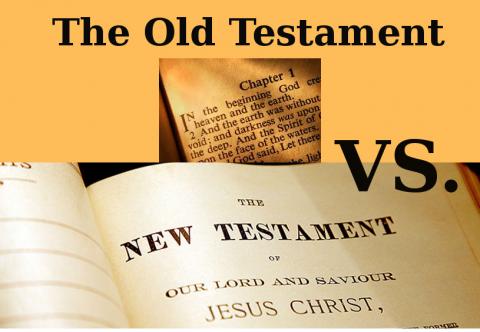 There is this mistaken impression out there that the God of the Old Testament is greatly different than the Jesus of the New Testament. I would like to show how they are the same.
The Loving God
Jesus is known for instructing people to love one another. He tells his Hebrew followers that they should not only love their neighbors, but also their enemies.
Matthew 5: 43 "You have heard that it was said, 'You shall love your neighbor and hate your enemy.' 44 But I say to you, love your enemies and pray for those who persecute you, 45 so that you may be sons of your Father who is in heaven; for He causes His sun to rise on the evil and the good, and sends rain on the righteous and the unrighteous. 46 For if you love those who love you, what reward do you have? Do not even the tax collectors do the same? 47 If you greet only your brothers, what more are you doing than others? Do not even the Gentiles do the same?
Here Jesus is elaborating on something the Jewish people already knew: that they should love their neighbors. When he says, "you have heard it said" Jesus is referring them back to their scriptures. In Leviticus 18 , they were instructed: "You shall not take vengeance, nor bear any grudge against the sons of your people, but you shall love your neighbor as yourself; I am the Lord."
The God who Forgives
Jesus taught much on the subject of forgiveness. In Matthew 18 the following parable of Jesus is recorded:
21 Then Peter came and said to Him, "Lord, how often shall my brother sin against me and I forgive him? Up to seven times?" 22 Jesus *said to him, "I do not say to you, up to seven times, but up to seventy times seven.
23 "For this reason the kingdom of heaven may be compared to a king who wished to settle accounts with his slaves. 24 When he had begun to settle them, one who owed him ten thousand talents was brought to him. 25 But since he did not have the means to repay, his lord commanded him to be sold, along with his wife and children and all that he had, and repayment to be made. 26 So the slave fell to the ground and prostrated himself before him, saying, 'Have patience with me and I will repay you everything.' 27 And the lord of that slave felt compassion and released him and forgave him the debt. 28 But that slave went out and found one of his fellow slaves who owed him a hundred denarii; and he seized him and began to choke him, saying, 'Pay back what you owe.' 29 So his fellow slave fell to the ground and began to plead with him, saying, 'Have patience with me and I will repay you.' 30 But he was unwilling and went and threw him in prison until he should pay back what was owed. 31 So when his fellow slaves saw what had happened, they were deeply grieved and came and reported to their lord all that had happened. 32 Then summoning him, his lord *said to him, 'You wicked slave, I forgave you all that debt because you pleaded with me. 33 Should you not also have had mercy on your fellow slave, in the same way that I had mercy on you?' 34 And his lord, moved with anger, handed him over to the torturers until he should repay all that was owed him. 35 My heavenly Father will also do the same to you, if each of you does not forgive his brother from your heart."
I love the old testament book of Hosea. In this book, God instructs his prophet Hosea to marry a faithless prositute, Gomer, and to love her. They have children together, but Gomer runs off, and winds up enslaved. Hosea is instructed to go and bring her back. The marriage is a picture of God and his faithless wife, Israel. Even though all Israel's adultery, worshipping Baal, God forgives and restores her. It is a story repeated thoughout the Old Testament: Israel wanders far from God, but God forgives and brings her back to Him.
Hosea 2 "Therefore, behold, I will allure her,
Bring her into the wilderness
And speak kindly to her.
15 "Then I will give her her vineyards from there,
And the valley of Achor as a door of hope.
And she will sing there as in the days of her youth,
As in the day when she came up from the land of Egypt.
16 "It will come about in that day," declares the Lord,
"That you will call Me Ishim.
And will no longer call Me Baali.
17 "For I will remove the names of the Baals from her mouth,
So that they will be mentioned by their names no more.
18 "In that day I will also make a covenant for them
With the beasts of the field,
The birds of the sky
And the creeping things of the ground.
And I will abolish the bow, the sword and war from the land,
And will make them lie down in safety.
19 "I will betroth you to Me forever;
Yes, I will betroth you to Me in righteousness and in justice,
In lovingkindness and in compassion,
20 And I will betroth you to Me in faithfulness.
Then you will know the Lord.
21 "It will come about in that day that I will respond," declares the Lord.
"I will respond to the heavens, and they will respond to the earth,
22 And the earth will respond to the grain, to the new wine and to the oil,
And they will respond to Jezreel.
23 "I will sow her for Myself in the land.
I will also have compassion on her who had not obtained compassion,
And I will say to those who were not My people,
'You are My people!'
And they will say, 'You are my God!'"
Hosea 11 When Israel was a youth I loved him,
And out of Egypt I called My son.
2 The more they called them,
The more they went from them;
They kept sacrificing to the Baals
And burning incense to idols.
3 Yet it is I who taught Ephraim to walk,
I took them in My arms;
But they did not know that I healed them.
4 I led them with cords of a man, with bonds of love,
And I became to them as one who lifts the yoke from their jaws;
And I bent down and fed them.
Redemption is Through Faith in God
Old and New Testament, the way people are recociled to God is through their faith. The great men of God in the Old Testament became so through believing what God told them. Hebrews 11:
11 Now faith is the assurance of things hoped for, the conviction of things not seen. 2 For by it the men of old gained approval.
3 By faith we understand that the worlds were prepared by the word of God, so that what is seen was not made out of things which are visible. 4 By faith Abel offered to God a better sacrifice than Cain, through which he obtained the testimony that he was righteous, God testifying about his gifts, and through faith, though he is dead, he still speaks. 5 By faith Enoch was taken up so that he would not see death; and he was not found because God took him up; for he obtained the witness that before his being taken up he was pleasing to God. 6 And without faith it is impossible to please Him, for he who comes to God must believe that He is and that He is a rewarder of those who seek Him. 7 By faith Noah, being warned by God about things not yet seen, in reverence prepared an ark for the salvation of his household, by which he condemned the world, and became an heir of the righteousness which is according to faith.
8 By faith Abraham, when he was called, obeyed by going out to a place which he was to receive for an inheritance; and he went out, not knowing where he was going. 9 By faith he lived as an alien in the land of promise, as in a foreign land, dwelling in tents with Isaac and Jacob, fellow heirs of the same promise; 10 for he was looking for the city which has foundations, whose architect and builder is God. 11 By faith even Sarah herself received ability to conceive, even beyond the proper time of life, since she considered Him faithful who had promised. 12 Therefore there was born even of one man, and him as good as dead at that, as many descendants as the stars of heaven in number, and innumerable as the sand which is by the seashore.
13 All these died in faith, without receiving the promises, but having seen them and having welcomed them from a distance, and having confessed that they were strangers and exiles on the earth. 14 For those who say such things make it clear that they are seeking a country of their own. 15 And indeed if they had been thinking of that country from which they went out, they would have had opportunity to return. 16 But as it is, they desire a better country, that is, a heavenly one. Therefore God is not ashamed to be called their God; for He has prepared a city for them.
In the New Testament, men are also reconciled to God through their belief.
John 6:35
Jesus said to them, "I am the bread of life; he who comes to Me will not hunger, and he who believes in Me will never thirst.
John 11
25 Jesus said to her, "I am the resurrection and the life; he who believes in Me will live even if he dies, 26 and everyone who lives and believes in Me will never die. Do you believe this?"
John 11:40
Jesus *said to her, "Did I not say to you that if you believe, you will see the glory of God?"
Acts 16:31
[ The Jailer Converted ] They said, "Believe in the Lord Jesus, and you will be saved, you and your household."
Romans 4:23-25
23 Now not for his sake only was it written that it was credited to him, 24 but for our sake also, to whom it will be credited, as those who believe in Him who raised Jesus our Lord from the dead, 25 He who was delivered over because of our transgressions, and was raised because of our justification.
Romans 10:8-10
8 But what does it say? "The word is near you, in your mouth and in your heart"—that is, the word of faith which we are preaching, 9 that if you confess with your mouth Jesus as Lord, and believe in your heart that God raised Him from the dead, you will be saved; 10 for with the heart a person believes, resulting in righteousness, and with the mouth he confesses, resulting in salvation.
God is Angry
Even though God has incredible patience with people, giving them many chances to repent, there comes a point when God's forbearance comes to an end and His great justice requires that he punish sin. During Noah's time, mankind became so corrupted that God's anger overflowed. Genesis 6:11 "Now the earth was corrupt in the sight of God, and the earth was filled with violence. 12 God looked on the earth, and behold, it was corrupt; for all flesh had corrupted their way upon the earth." This was from fallen angels, Sons of God, taking human women for wives.
Genesis 6 Now it came about, when men began to multiply on the face of the land, and daughters were born to them, 2 that the sons of God saw that the daughters of men were beautiful; and they took wives for themselves, whomever they chose. 3 Then the Lord said, "My Spirit shall not strive with man forever, because he also is flesh; nevertheless his days shall be one hundred and twenty years." 4 The Nephilim were on the earth in those days, and also afterward, when the sons of God came in to the daughters of men, and they bore children to them. Those were the mighty men who were of old, men of renown.
5 Then the Lord saw that the wickedness of man was great on the earth, and that every intent of the thoughts of his heart was only evil continually. 6 The Lord was sorry that He had made man on the earth, and He was grieved in His heart. 7 The Lord said, "I will blot out man whom I have created from the face of the land, from man to animals to creeping things and to birds of the sky; for I am sorry that I have made them." 8 But Noah found favor in the eyes of the Lord.
Mankind's DNA was so messed up, God was forced to intervene. He saved Noah who was "pure in his generations" and his family, and destroyed the rest of the earth.
In the New Testament, the whole world will be punished again. This will be at a time when the world has become so corrupt, "as in the days of Noah. But this time, it will be Jesus bringing down judgement on the earth. In the end, at the battle of Armageddon, the armies of the whole world will gather to make war upon God. These will be slaughtered so that the blood will be as deep as a horse's bridle in the valley or Armageddon.
---
These were just a few examples of how there is no disconnect between the God of the Old Testament and Jesus.
He upholds the cause of the oppressed
and gives food to the hungry.
The LORD sets prisoners free,
the LORD gives sight to the blind,
the LORD lifts up those who are bowed down,
the LORD loves the righteous.
The LORD watches over the alien
and sustains the fatherless and the widow,
but he frustrates the ways of the wicked.
(Ps 146:7-9)