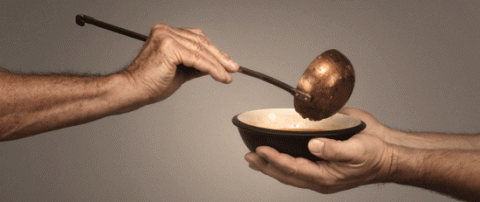 Sing to him; sing praise to him; tell about all his wondrous works!
There are many who believe that if they are basically nice people, do stuff to help people, that they will make it to heaven. The Bible, which is the record of God's interaction with His chosen people, Israel, contradicts that belief. Jesus said, "I am the way, and the truth, and the life. No one comes to the Father except through me." It is Jesus and HIS work on the cross that saves people and allows them into heaven. We all have sinned, and Jesus paid the penalty for our sins on the cross. He died, paying our death sentence. When we go through Jesus, put our faith totally in Him, then our sins are forgiven and we can entered eternal life in heaven. Without Him and the blood He shed for us, we must pay the penalty for our sins ourselves, and that penalty is death and hell.
A careful reading of the Bible clearly shows the importance of God and HIS works. Satan the deceiver and men seek to raise themselves to the level of God. The end of those who seek to exult themselves above God is clear:
How art thou fallen from heaven, O Lucifer, son of the morning! how art thou cut down to the ground, which didst weaken the nations! For thou hast said in thine heart, I will ascend into heaven, I will exalt my throne above the stars of God: I will sit also upon the mount of the congregation, in the sides of the north: I will ascend above the heights of the clouds; I will be like the most High. Yet thou shalt be brought down to hell, to the sides of the pit.
Most of the world's religions teach that if you do enough good works, you will be OK. But does that even make sense? In our world, a person who commits a crime cannot offset it by doing good. For example a murderer cannot be let go as innocent if he has helped 10 old ladies cross the road. A rapist is not let go because he helped feed the poor. No, when justice is done in this world, a criminal is punished for his crimes.
So much more so in the next world. God is perfect in justice. His definition of what is a crime is much more strict, because of His perfection. God judges what is in our hearts, and not just our actions. Jesus said that if you even look at a woman with lust, you have committed adultery with her already in your heart. God would not be just if he left criminals unpunished.
The Apostle Paul made it clear that salvation comes from faith in Jesus and what he did for us, and not our works. Salvation is a gift from God, by His grace, and not something you can ever earn by your own power. Consider the following verses:
If Abraham was justified by works, he has something to boast about—but not before God. For what does the Scripture say? Abraham believed God, and it was credited to him for righteousness. Now to the one who works, pay is not credited as a gift, but as something owed. But to the one who does not work, but believes on him who declares the ungodly to be righteous, his faith is credited for righteousness.
In the same way, then, there is also at the present time a remnant chosen by grace. Now if by grace, then it is not by works; otherwise grace ceases to be grace.
But Israel, pursuing the law of righteousness, has not achieved the righteousness of the law. Why is that? Because they did not pursue it by faith, but as if it were by works. They stumbled over the stumbling stone. As it is written,
Look, I am putting a stone in Zion to stumble over
and a rock to trip over,
and the one who believes on him
will not be put to shame.
...yet because we know that a person is not justified by the works of the law but by faith in Jesus Christ, even we ourselves have believed in Christ Jesus. This was so that we might be justified by faith in Christ and not by the works of the law, because by the works of the law no human being will be justified.
The person who seeks to enter heaven by his keeping of the 10 commandments, or by his good deeds, has his focus on himself and what he does, and not God and what He has done. He is seeking to pay for a gift. How would you feel if you brought a nice present to your friend, and the friend tries to give you money for what you meant as a gift? The salvation of mankind is one of God's greatest works. How can we try and give our paltry payment for something that is so magnificent? It's like someone *gives* you a Rolls Royce and you offer to pay with a couple pennies. The correct response would be awe at what is done for you, and much gratitude. What could you give that would pay for the death of the God of all creation?
If you could earn your way into heaven, then God would be giving you salvation as just payment. But the Bible makes it clear that our good works add up to worse than nothing. "All of us have become like one who is unclean, and all our righteous acts are like filthy rags; we all shrivel up like a leaf, and like the wind our sins sweep us away." So many examples in the Bible make it clear that God seeks us to rely on Him, and not on ourselves. It's like the whole point. When the Israelites tried to go to war without God's instruction and backing, they were soundly defeated.
Thus says the Lord: "Cursed is the man who trusts in man and makes flesh his strength, whose heart turns away from the Lord. He is like a shrub in the desert, and shall not see any good come. He shall dwell in the parched places of the wilderness, in an uninhabited salt land. "Blessed is the man who trusts in the Lord, whose trust is the Lord. He is like a tree planted by water, that sends out its roots by the stream, and does not fear when heat comes, for its leaves remain green, and is not anxious in the year of drought, for it does not cease to bear fruit." The heart is deceitful above all things, and desperately sick; who can understand it?
Abide in me, and I in you. As the branch cannot bear fruit by itself, unless it abides in the vine, neither can you, unless you abide in me. I am the vine; you are the branches. Whoever abides in me and I in him, he it is that bears much fruit, for apart from me you can do nothing.
And I, when I came to you, brothers, did not come proclaiming to you the testimony of God with lofty speech or wisdom. For I decided to know nothing among you except Jesus Christ and him crucified. And I was with you in weakness and in fear and much trembling, and my speech and my message were not in plausible words of wisdom, but in demonstration of the Spirit and of power, that your faith might not rest in the wisdom of men but in the power of God. ...

It is literal self-rightousness to rely on your own works to get to heaven. Instead, put your trust in the one and only God, the Creator of all, and His one path He gave us to heaven. That path is to realize what Jesus did for us on the cross, and to put our trust in Jesus, and repent of our wrongdoing. To trust Jesus is to trust that what He did on the cross is sufficient to pay the penalty for our sins. To trust Jesus is to realize that our own good works are not sufficient to let us off the hook. Rely on God (not man). Give glory to God (not man). Trust in God (not man). Jesus is The Way, The Truth, The Life, and no one will come to the father except through Him.