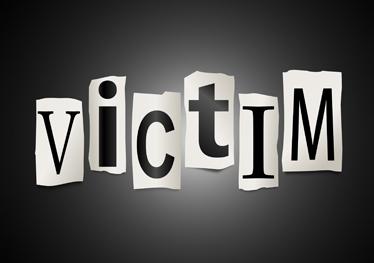 Today I would like to address this new cult of victimhood that is becoming so prevalent in our society. People are scrambling to become part of a victimized class -- women, black, gay, etc. etc. etc. The more victimized groups you can belong to, the more special treatment you can receive. This is a problem in many ways. If you go through life viewing yourself primarily as a victim, it stunts your growth. I was listening to an interview with a guy who'd written a book on the ideas that healthy societies have believed throughout human history, and one such idea was, "What doesn't kill me makes me stronger." Surely we have lost this ideal that trials and tribulations are opportunities for growth.
More importantly, viewing yourself primarily as a victim will impede your relationship with God. A necessary part of salvation is coming to the knowledge that YOU have done wrong, not dwelling on what others have done to you. In fact, God says we must forgive one another. If we are focusing on our victimhood status, I don't think we have truly forgiven the person.
We have this tendency to think, "I'm a good person." But in God's view, we have all sinned. We lie. We cheat each other. We steal. We commit all kinds of sexual sins. The Bible is clear that each person will be judged for his own sins. We won't be judged for how others have wronged us.
For a Christian, it is clear that we must not take up this mantle of victimhood. We are told to be joyful about the trials which come our way. It is also very clear that we must forgive, as we have been forgiven. Consider the following verses:
---
For if you forgive others their trespasses, your heavenly Father will also forgive you, but if you do not forgive others their trespasses, neither will your Father forgive your trespasses. --Mattew 6
---
Then Peter came to him and asked, "Lord, how often should I forgive someone who sins against me? Seven times?"
"No, not seven times," Jesus replied, "but seventy times seven!
"Therefore, the Kingdom of Heaven can be compared to a king who decided to bring his accounts up to date with servants who had borrowed money from him. In the process, one of his debtors was brought in who owed him millions of dollars. He couldn't pay, so his master ordered that he be sold—along with his wife, his children, and everything he owned—to pay the debt.
"But the man fell down before his master and begged him, 'Please, be patient with me, and I will pay it all.' Then his master was filled with pity for him, and he released him and forgave his debt.
"But when the man left the king, he went to a fellow servant who owed him a few thousand dollars. He grabbed him by the throat and demanded instant payment.
"His fellow servant fell down before him and begged for a little more time. 'Be patient with me, and I will pay it,' he pleaded. But his creditor wouldn't wait. He had the man arrested and put in prison until the debt could be paid in full.
"When some of the other servants saw this, they were very upset. They went to the king and told him everything that had happened. Then the king called in the man he had forgiven and said, 'You evil servant! I forgave you that tremendous debt because you pleaded with me. Shouldn't you have mercy on your fellow servant, just as I had mercy on you?' Then the angry king sent the man to prison to be tortured until he had paid his entire debt.
"That's what my heavenly Father will do to you if you refuse to forgive your brothers and sisters from your heart." --Matthew 18
---
Count it all joy, my brothers, when you meet trials of various kinds, for you know that the testing of your faith produces steadfastness. And let steadfastness have its full effect, that you may be perfect and complete, lacking in nothing. --James 1