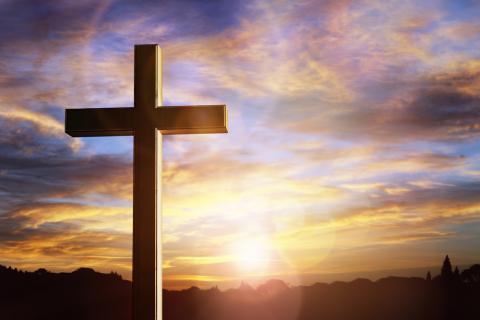 2000 years ago, we had the most precious thing to ever come into this earth in our reach. What did we do with it? We killed him. Jesus came down to earth, healed the sick, made the lame able to walk again, gave sight to the blind, freed men from the hold of demons. Jesus who "In the beginning was the Word, and the Word was with God, and the Word was God. He was with God in the beginning. Through him all things were made; without him nothing was made that has been made. In him was life, and that life was the light of all mankind." He came as our Creator, our Healer, our Savior, our Righteousness, our Truth...but we killed Him. Yet while we were flaying the skin off His back, while we were taunting Him and jeering at Him, while we were putting the nails through His hand and His feet, he was making the way for our forgiveness and salvation. As He was hanging on the cross, He prayed for the forgiveness of those who put them there.
In the Bible, things are often not as they seem. What was arguably mankind's worst sin, God turned around and made it into what is arguably the best thing to happen to man since the creation. Man whipped and tortured and killed the Son of God, but that same action was turned into the salvation of mankind.
Such love is almost beyond our comprehension. What person do you know who would die to save their enemies? What person would willingly die to save the very people who were inflicting the cruelest of deaths on him? No one I know, except Jesus would do such a thing. It is such a love as this that can turn an enemy into the most devoted of friend.
Romans 6:23: The wages of sin is death, but the free gift of God is eternal life in Christ Jesus our Lord.
Mark 10:45: "The Son of Man came not to be served but to serve, and to give his life as a ransom for many."
Romans 5:8: God shows his love for us in that while we were still sinners, Christ died for us.
Romans 8:1: There is therefore now no condemnation for those who are in Christ Jesus.
Romans 8:32: He who did not spare his own Son but gave him up for us all, how will he not also with him graciously give us all things?
2 Corinthians 5:21: For our sake he made him to be sin who knew no sin, so that in him we might become the righteousness of God.
2 Corinthians 8:9: You know the grace of our Lord Jesus Christ, that though he was rich, yet for your sake he became poor, so that you by his poverty might become rich.
1 Timothy 1:15: The saying is trustworthy and deserving of full acceptance, that Christ Jesus came into the world to save sinners, of whom I am the foremost.
1 John 4:10: In this is love, not that we have loved God but that he loved us and sent his Son to be the propitiation for our sins.